Charlotte Country Libraries Rock!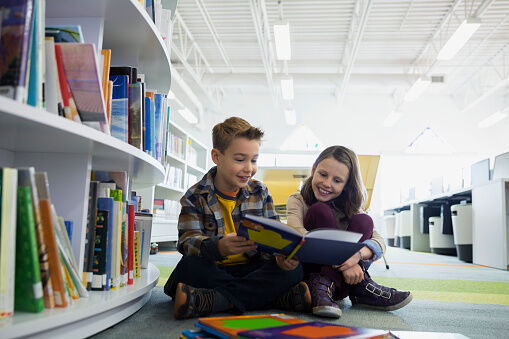 Charlotte County Library Summer Reading Program: Libraries Rock!
Each summer the Charlotte County Library System sponsors a Summer Reading Program to provide families and community members with a framework to promote literacy during the summer months. Tools provided include Summer Reading Logs for children and adults, suggested reading lists, activities, etc. Throughout the summer, families and patrons log their reading and library usage with one of the four library branches. At the end of the summer, participants are entered in a contest for a chance to win a variety of prizes. This program was established to support literacy by providing our community with free entertainment options throughout the long, hot summer.
In early June, each branch holds its own Summer Reading Kickoff based on the summer's theme. This year's theme is "Libraries Rock".
Charlotte County Libraries Summer Reading Kick-off Schedule for Saturday, June 2.
Port Charlotte Library 11 a.m. to 1 p.m. ***
2280 Aaron St. (Corner of Gertrude Ave & Aaron St. next to the Cultural Center of Charlotte County)
Englewood Charlotte Public Library 11 a.m. to 1 p.m.
Mid-County Regional Library 12p.m. to 2 p.m.
Punta Gorda Library 1 p.m. to 3 p.m.
PLEASE NOTE: Reading Kickoff and summer programs vary from branch to branch. Check the Charlotte County Libraries calendar or contact individual branches for details.
***Join us at the Port Charlotte Library on Aaron Street as we embrace the theme "Libraries Rock!" with live broadcasts from iHeart Radio's KIX Country & My FM. Along with handing out Reading Logs, we will have karaoke, a Guitar Hero showdown, and Just Dance dance-off. We will also recycle old CDs into new fantastic works of art! Refreshments will include free hotdogs, Kona Ice, and more.
During Summer Reading Kickoff and while supplies last, you can pick up Summer Reading Logs for the kids and BINGO cards for the adults. Complete the tasks for your chance to win one of the fabulous prizes donated by the local business community.
After kickoff, Port Charlotte Library will begin a daily Read and Feed schedule: Tuesday – Friday, throughout the months of June and July, except during the week of July 4th. Each day will bring a new activity from 10:30 a.m. to 11:30 a.m. followed by a free lunch courtesy of Champs Café on Wheels (the COW)! for children 18 and under. Lunch will be served from 11:30 a.m. to 12 noon and must be eaten on the premises. Registration is required to ensure that lunches are available for all participants. Families can register online via the Charlotte County Libraries website calendar, in-person, or by calling the Port Charlotte Library at (941) 764-5562.
Port Charlotte Library Read & Feed Activity daily lineup includes Peace River Wildlife's animal ambassadors, robots from the Southwest Florida Library Network, magicians, musicians, crafts, and more! Calendars of scheduled events are available at the Port Charlotte Library.