The C.O.W. Bus (Champs on Wheels)
This is a fantastic program to feed kids during the summer months...it's called "COW" or Champs (cafe) On Wheels. It's a school bus converted to an actual fresh food cafe, going around the community and serving kids wholesome meals planned by an actual nutritionist. Click on the link below to find out the times and locations...simply enter Port Charlotte in the search box as shown:
http://summerbreakspot.freshfromflorida.com/
Or you can text "FOOD" (without the quotes) to: 877-877 If you're an old guy like me...you need to be up on the latest shizzle!
Business Insider polled some teens to find out what slang words are so yesterday, along with some of the words that have replaced them
"Swag" is no longer used to describe someone who's cool, instead they use the word "Lit"
"Bae" is also overused to describe a significant other, although there really isn't a good replacement, while "On Fleek" is no longer used to describe someone who is perfect, and instead teens use "GOAT"
Nobody likes to sound like they are out of touch, especially brands trying to sell their products to teens, but keeping up with the latest slang words certainly isn't easy. Just when you think you've gotten a handle on what words are "cool," Gen Z goes and changes them, making you sound ancient.
So, what slang words are teens no longer using? Well, Business Insider polled some teens to find out what words are so yesterday, along with some of the words that have replaced them, so if you want to sound hip to your teenager, you better listen up.
Outdated slang words include:
"Swag" - Once used to describe someone who is cool, teens say that word hasn't been cool since 2012. Now if something is cool, teens will use the word "Lit," although it's more likely to be used to describe a situation or thing rather than a person.
"Bae" – It used to be the trendy way to talk about ones significant other, but it's been overused. There isn't actually a replacement word, although the word "bruh" is a way to describe a friend using something other than their name.
"YOLO" – Thanks to Drake, teens used YOLO to mean, "You only live once," a way to refer to seizing the day. But now, thanks to DJ Khaled, they use "key" or "major key" to describe something that's important.
"Rad" – This word for cool hasn't been popular since the 1990s. Instead, teens use the word "chill" to say something's cool.
"Gnarly" – Another word for cool, but this one hasn't been popular since the 70s and 80s. A better term to use is "dope."
"Savage" – Used to describe someone who acts without restraint, a trait that folks admire. This type of person usually does things that others are scared to do. Unfortunately, most teens don't use that word anymore. They suggest using the word "oof," to express sympathy for a friend who possibly got hurt by the "savage" individual.
"On Fleek" – Used to describe something or someone that's perfect, although these days teens use the term "GOAT," as in "greatest of all time" in such situations. Website you'll actually use - you're welcome!
With summer here you'll be going through a lot of soft drinks, and exposed to some you may have never tried before. This website reviews them all...and I mean ALL! Click the image below to visit the site....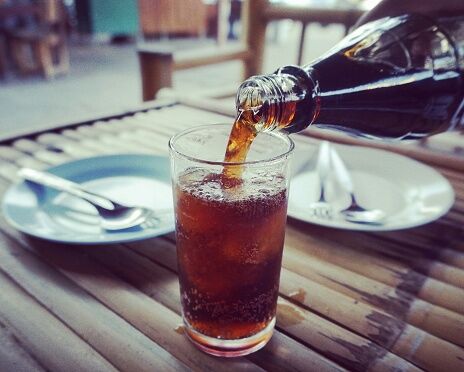 Pet Dog's Paw Prints Lead To Discovery Of Missing Tot
Michigan parents are thankful their dog followed their son, since the paw prints led to his rescue.


When Myhia Perez woke up to find her two-year-old son missing from the bedroom and the front door unlocked, she panicked. The boy, Princeton Peake, was nowhere to be found, so his father, Dominic searched the property surrounded by cornfields, woods, and swamps, fearing the worst.
But Princeton wasn't alone, the toddler had the family's pit-boxer mix, Apollo, by his side. Sheriff Daniel Abbott says the dog may have saved Princeton's life by being so loyal. Police followed Apollo's tracks to find the toddler in a muddy, wooded area nearly a mile down the road from his home. His diaper was missing and he was covered in scratches and bug bites, but he was safe.
"Without those dog tracks, without being able to track him for a half a mile in a muddy field, we wouldn't have had a good direction of travel of where that boy went," Abbott explains. The sheriff brought Apollo dog treats and food to reward him for his heroic actions. And the house has two new shiny locks on the front door so Princeton the escape artist won't get out again.
Source: Click on Detroit


Guy Asks Strangers on the Street to Go Skydiving on the Spot
Would You go skydiving if given the chance? This guy didn't want to get his feet wet...so a friend with a forklift helped him out.

Todd Matthews
Want to know more about Todd Matthews? Get their official bio, social pages & articles!
Read more